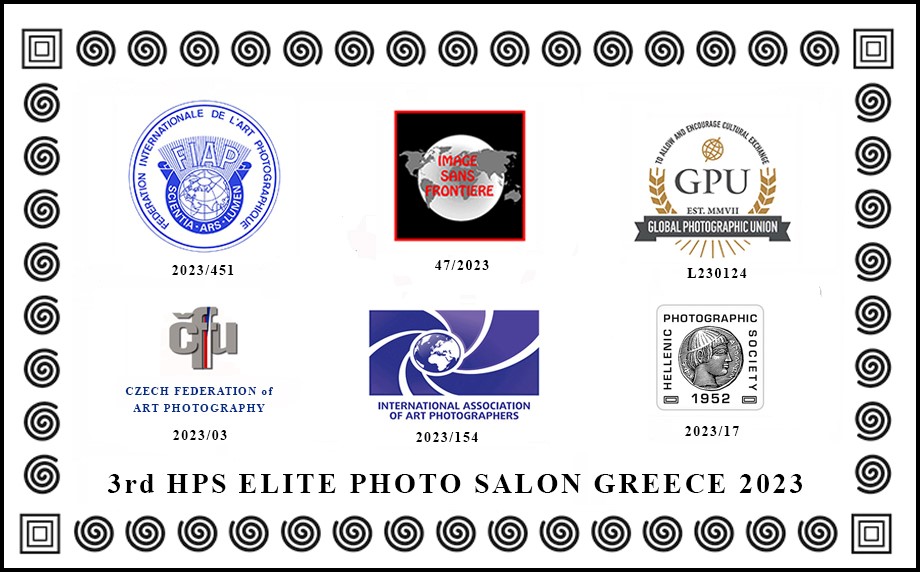 (FIAP, GPU, ISF, CFFU, IAAP, HPS Patronages)
CLOSING DATE 18 JUNE 2023
Dear Photo Friends from all over the world, you are invited to participate at the digital photo salon:
3rd HPS ELITE PHOTO SALON GREECE 2023
organized by the Hellenic Photographic Society. Hellenic Photographic Society is the oldest society in Greece and the Balkans with a very big printed photo archive since 1952. We are the official FIAP operational member since 1954 and from 2017 our Exhibition gallery is officially "FIAP Exhibition Center". HPS also provides patronages with unique Medals, Statues and Ribbons for International Salons, and all the acceptances and awards are taken into account for the HPS high quality distinctions.
MONOCHROME, COLOUR, NATURE, PHOTOJOURNALISM
MORE THAN 80 AWARDS
12 GOLD, 8 SILVER MEDALS, 8 BRONZE MEDALS, 28 RIBBONS, 20 E-DIPLOMAS
GRAND AWARD APOLLO
MEDALS FOR THE BEST AUTHOR PER COUNTRY
LOW ENTRY 10 EURO ALL SECTIONS
4 STAR DIGITAL CATALOGUE
WILL BE PUBLISHED ONE ACCEPTANCE PHOTO FROM EVERY PARTICIPANT
PARTICIPATION